7 Smart Ways to Reduce Your Supply Chain Costs!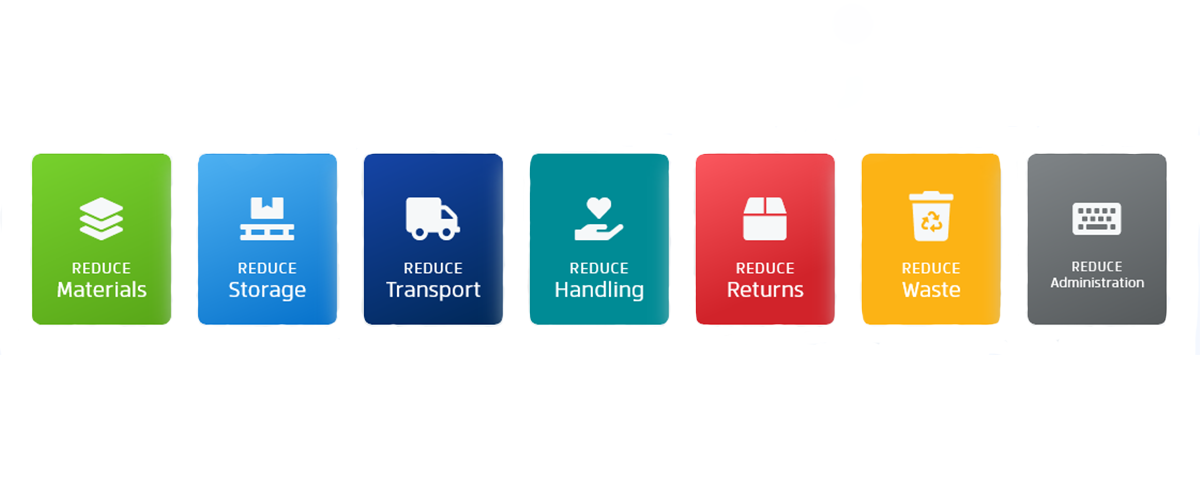 Do you want to reduce your company's total supply chain costs?
In almost all cases, the answer would be yes. For many of you, the first instinct when trying to save money on packaging is to switch to the supplier with the lowest unit price. Whilst this can of course help, it does not take in to account a wider perspective. 
In our experience we believe that looking at the entire supply chain delivers the best results.
At Pitreavie, we have devised a 'Seven Solutions' approach to help reduce costs and drive more efficiencies in the business.
Our Seven Solutions identify areas to improve your business and point you towards the right products and services to help cut your costs and streamline your supply chain.
Reduce Materials
There are constant changes in packaging technology relating to your sector, whether it's food, cosmetics, manufacturing or pharmaceuticals. The packaging industry is always investing in a huge amount of research and development to design new products. These are often more durable, lightweight, secure and environmentally friendly. All these new and innovative materials can add up to cost savings for your business.
Reduce Storage
With every company looking to maximize space, it's important to consider the costs associated with storing your packaging materials.
Instead of shipping all your packaging directly to you, another option is to hold stock with your supplier, ready to be called upon at a moment's notice. You might be concerned about cutting it too close, but stock held at Pitreavie can ensure this does not happen!
Reduce Transport
The cost of transportation can be a major issue – whether you are using your own vehicles or operating through a courier. Packaging can have a huge impact on these costs. By optimizing box size to get more per pallet, or increasing product spec to reduce damages, you can greatly reduce your transport spend!
Reduce Handling
Your workforce could be spending valuable time on tasks such as constructing corrugated cardboard cartons, inserting dividers and void fill, or securing boxes for transit.
Automation can play a key role in boosting your productivity. It can speed up the packaging process, reduce waste, reduce the likelihood of repetitive strain injuries and even enhance the appearance and security of your products.
Reduce Returns
Product damages cost your business in many ways. When a customer returns a damaged product, you lose money on repeat manufacturing, packaging and shipping. Your relationship with the customer is likely to have taken a hit too!
There are two leading causes of product damage: poor packaging and transit damage. Products helping to improve load stability and reduce harsh vibrations can help to avoid unnecessary damages during transit. Using products with improved burst and crush strengths can also make a huge difference in protecting your valuable products.
Reduce Waste
Reducing waste is usually the most cost-effective option – and the best for the environment!
By choosing a packaging design that minimises excess material, you can reduce the overall amount of waste produced by your business. You can also eliminate unnecessary layers of packaging or remove the need for excessive void space fillers. Lightweighting and downsizing are also smart and effective ways to reduce waste.
Reduce Administration
It can be tempting to use multiple suppliers to chase the best prices, however, the cost of administration can mount up. Depending on what journal you read, the cost of processing and paying an invoice can cost anything from £10-£25. This does not include the amount of time you spend chasing late deliveries, questioning discrepancies and haggling over prices.
Now consider the alternative. One monthly invoice, covering all your supplies.
Contact Us
As Scotland's leading packaging supplier, with sites in Aberdeen, Cumbernauld, Glenrothes and Worcester, we are confident that we can support your business, no matter where in the UK you are based.
If you'd like more information on our seven solutions, please visit https://www.pitreaviegroup.co.uk/solutions/, where you will find more detail on ways to cut your packaging costs.
Alternatively, if you'd like to have a chat about your packaging operation, you can email us at 24.7@pitreaviegroup.co.uk or call us on 01592 631273.