YOUR E-COMMERCE OPPORTUNITY REIMAGINED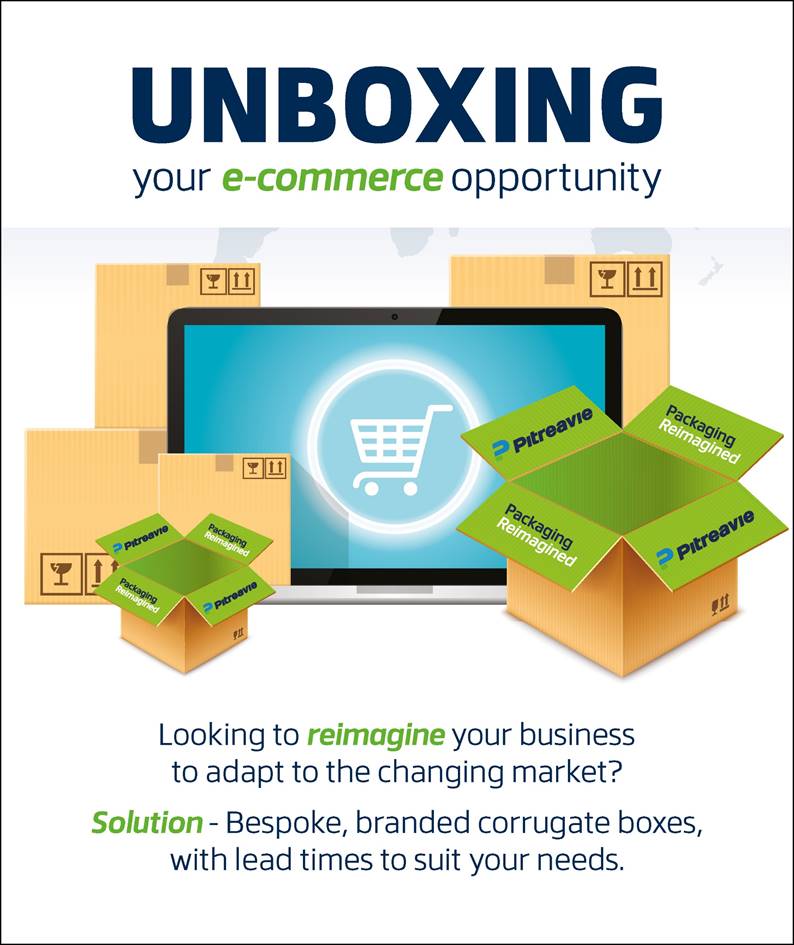 It may come as no surprise that demand for e-commerce has skyrocketed since the onset of the COVID-19 global pandemic meaning many small businesses have been forced to diversify and move their enterprises online.
E-COMMERCE IN 2020
• Broadband traffic shot up 90% on Monday 23rd March, the first day of school closures, compared with two weeks previous. Internet usage continues to grow steadily with consumers relying heavily on e-commerce for everything from food and drink to health and beauty products.
• Restrictions on travel have undoubtedly played a part in retail habits across the world, and consumers are becoming increasingly attracted to spending within their local communities. 3 in 5 consumers favour local shops during lockdown and place greater importance on helping local businesses stay afloat during the crisis.
• Statistics show that there has been a 32.8% increase in consumers shopping for groceries online and a 17.8% growth in those ordering takeaway food online in May 2020.
• Alcoholic drinks retailers have seen a significant rush in business as shoppers braced themselves for the uncertainty of lockdown – this translated to around a 20% increase in demand for e-commerce packaging.
WHAT DOES THIS MEAN?
Pitreavie has supplied a diverse range of businesses with e-commerce solutions nationwide over the past months. Examples include beauty companies with extraordinary demand for at home hair colouring and self-tanning products; Italian delis supplying their loyal customers with their favourite pasta and wine.
In addition, Sorbafreeze (Pitreavie's chilled packaging division) has seen around 250 new customers placing considerable orders for temperature-controlled packaging as businesses ranging from family run butchers to catering firms push to move their businesses online.

THE SOLUTION
At Pitreavie, we have an in-house designer with 30 years of experience in the industry and a state-of-the-art corrugate manufacturing facility, perfect to help you get your business online.
We understand that a huge factor in the success of businesses trading online is speed of delivery which is why we offer a range of sizes of e-commerce boxes from stock to help you cope with increased demand.
Our e-commerce cartons can be delivered quickly to reflect your need to diversify and adapt your business to suit the current climate.
Custom made cartons can address your packaging costs, reduce damages, increase productivity, and improve that all important customer experience.
Whether you need bespoke or from stock e-commerce cartons to help you diversify in these unprecedented times, Pitreavie can provide the solution for your business.
Contact us for your e-commerce solution.