Pitreavie Stock and Serve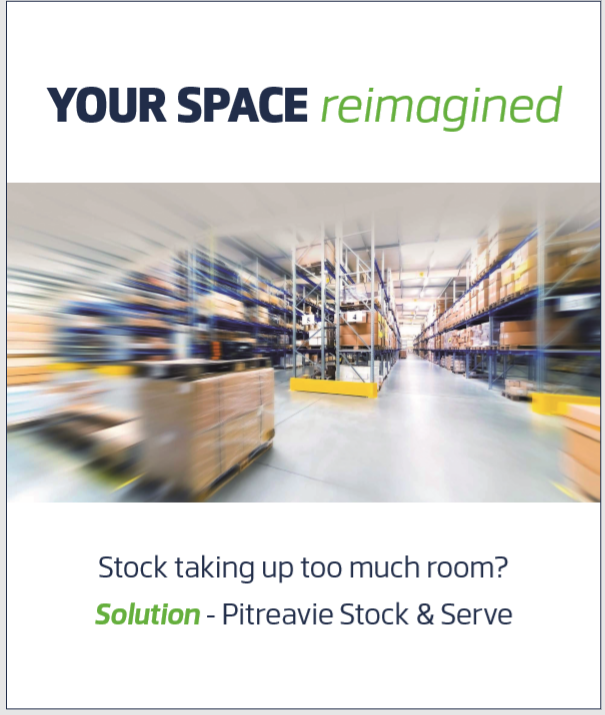 YOUR SPACE reimagined
Stock taking up valuable space? // Solution – Pitreavie stock and serve.
With every business looking to maximise space, it is important to consider the costs associated with storing your packaging materials. You may struggle to find room for the large amounts of corrugated cardboard, paper, and plastic you use to package and ship materials. Excessive stock can be one of the largest space wasters for businesses, so it has become increasingly important to only stock the items that you require.
Unfortunately, some companies feel they are forced to buy in bulk to reduce costs to a manageable level. Some are faced with long lead times and are therefore forced to carry large stock levels to cope with any sharp rises in demand. It also goes without saying, the more storage space you dedicate to packaging material, the less space you have for finished product.
We have the solution.
Through our vendor managed inventory solution, our warehouse can become an extension of your own. Instead of shipping all of your corrugated cardboard and paper orders directly to you, Pitreavie will hold stock of all your packaging materials, ready to be called upon at a moment's notice.
You might be concerned about cutting it too close and not having the packaging you need in time. If that's the case, we can offer pre-scheduled or automated releases of packing materials based on your company's historical data.
To find out more about our vendor managed inventory, please click here or email us at sales@pitreaviegroup.co.uk.